An ATV Ride Is One Of the Most Exciting Hobbies You Can Participate In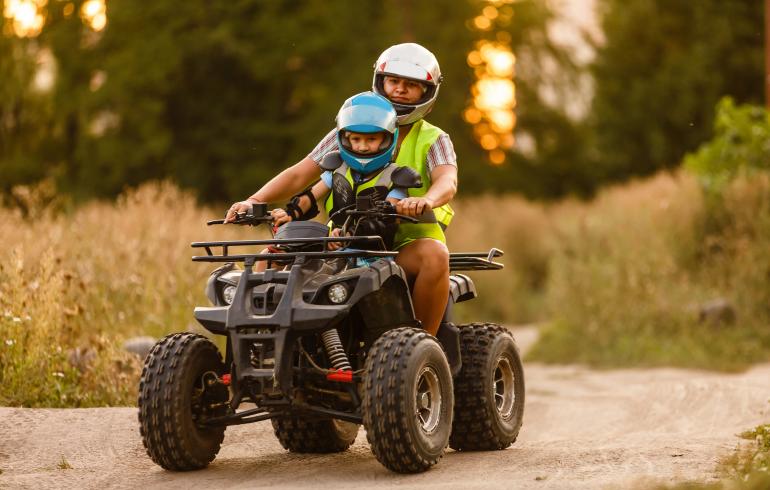 All terrain vehicles. The name conjures up fun images of flying around on four wheels through trails or over sand dunes.
If you're thinking about picking up an ATV, then obviously this image appeals to you! Using an ATV in the right way leads to a lot of fun.
When you're picking an ATV, you probably have different needs. Some people want sport ATVs that will help them feel the most thrill as they drive. These specifically tend towards manual transmissions and rear wheel drive for extra fun. If you might want to use your ATV for productivity and work, then a utility model is the way to go. These ATVs are a bit less fun to drive, but offer durability and can go all day long. It's possible to feel somewhat overwhelmed at the dozens of models out there for sale. All tend to advertise themselves as the best choice. That's just advertising. What follows is some of the better options for your ATV purchases. Not all are direct competitors to each other, but all have some excellent features and aspects to them.
1 - Yamaha Grizzly 700 EPS
This is an excellent all around ATV with a lot of benefits. The engine is powerful and has excellent acceleration and response. While not the most powerful, it's lighter than competitors, making up for the slightly less power. The Grizzly provides excellent comfort in the seat and extra room for the legs. There's also some extra room on the suspension to better take in rough rides and keep it from reaching your poor bones. The Grizzly has had some redesigns on the controls to make sure that they are all easily within reach.
2 - Suzuki KingQuad 750
The KingQuad has room for two if needed and a wide based design that's shown a lot of improvement. Much of this comes from the frame. It has increased the strength of the overall ATV by increasing the strength of the frame. This has allowed the steering to become more responsive and stable. In addition, it's also added a third headlight to help while driving once it's darker out. Overall it's a solid ATV in almost every way.
3 - Can-Am Renegade 1000R
If you're looking for a pure sport ATV, this is undeniably one of the best. You can grab 850cc and 1000cc engines and the suspension has a huge travel ability for big rocks. There's admittedly a downside to the high performance equipment that's been added to the ATV. It's one heavy piece of equipment. If you get the big-tire versions for muddy ground, then it's over 700 lbs! Flying around on a half ton of metal, plastics and rubber can be quite the thrill. 91 horsepower is a lot for such a small vehicle and you definitely feel it. It's clearly built for fun as it has no carrying racks and independent braking. Build quality is excellent.
4 - Arctic Cat Alterra 300
Not everyone should move straight to the biggest and most powerful ATVs right away. The Alterra 300 is actually a fantastic choice for people breaking into the ATV world. Coming in under 500 pounds makes it a lightweight of an ATV. Ground clearance is average, as is the suspension. This means it has capability, but a beginner won't be tempted to do something they aren't prepared for. The Alterra 300 is fairly compact. It works for adults, but is a good choice for older children as well. In addition to being a good beginner ATV, the storage racks are useful and it can even tow smaller loads. Arguably the best feature is the fuel tank. Capacity is huge for an ATV this size, coming in at 4.3 gallons. That means the Alterra 300 can run longer. Riders can just get out and enjoy themselves instead of feeding a thirsty ATV.