Anyone's Backyard Gets Better With Either a Swing or a Hammock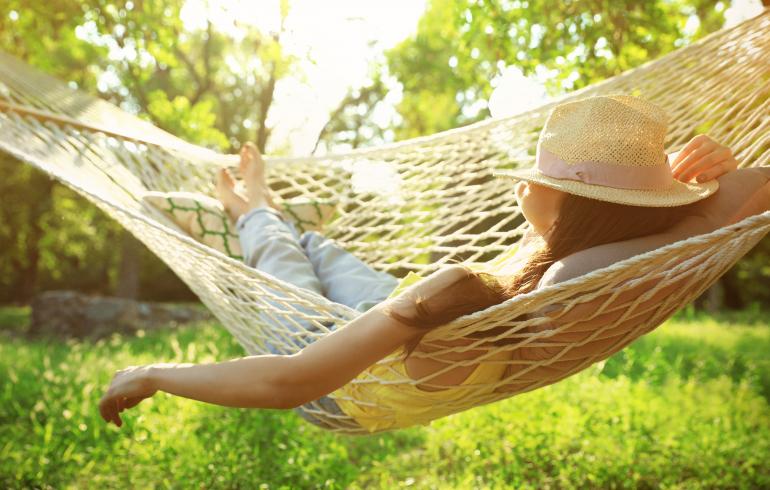 A hammock or swing is a wonderful place to stretch out and enjoy fresh air from both sides.
Because hammocks are generally an open weave, you will want to make sure that you're fully protected from pesky bugs. However, once your space is secure, you can stretch out on a hammock or relax back in a swing, close your eyes and rest deeply.
One of the nicest things about a good hammock is that your head will be the same height as your feet while your bottom drops a bit. For many campers and backpackers, sleeping in a hammock is great for spinal health and staying cool. For people who just want to make their backyard more inviting, a hammock or a swing could happily increase the relaxation levels that your backyard provides to you.
Why Get a Backyard Swing?
Your backyard swing can become an ideal tool for relaxation, meditation and calm. Swinging soothes everyone, from tired babies to stressed out parents! Of course, your swing must be properly sized for your weight and hung from a secure point for safety.
A simple corded swing can be an ideal choice for your backyard oasis. Many of these swings are unstructured and may be uncomfortably tight when you sit down. If you've felt this pinch before, consider investing in a corded swing with a solid seating base. In this swing, you will have plenty of wiggle room without all the pressure on your hips as you enjoy the fresh air of your backyard.
When looking for a swing, make sure you get one large enough to support your head if you lean back and take a nap. Additionally, try to get a swing with a large and sturdy border. Falling asleep in your swing may put pressure on the back of your knees; to avoid the risk of clotting, you'll want a wide, smooth border to reduce the risk of binding.
Types of Backyard Hammocks
A free-standing hammock offers the most flexibility. If you have mature trees or a sturdy pair of hanging points, you can create a permanent spot for your hammock, but make sure you have a simple way to elevate it for mowing and other chores.
A nylon hammock will be lighter but may not be as comfortable as a corded swing. Nylon left in the sun may suffer UV damage or become uncomfortably hot before you even get a chance to lay down on it.
Should you find that the bugs simply won't leave you alone, consider investing in a hammock tent. These useful camping tools offer a smooth, comfortable piece of durable weather resistant fabric to lay on and a zippered cover to relax under.
Which One Is Right For You?
Hammocks and swings are relaxing once you're in them but a bit of a challenge to get into. If you've got a mature tree where you can hang a clipping point for your swing or hammock, consider also hanging a strap that you can grip to make it easier to get out of your hammock.
A swing can be hung from an accompanying stand, as can a hammock. If you're pretty good about putting things away, a corded natural swing will be more comfortable and last longer than a nylon product. However, if you or a member of your household isn't good about putting things up at the end of the day, before a rain or before winter, a nylon product may be a better choice and cheaper to replace.