Buying a Good Crib Ensures A Happy And Safe Baby
A crib is a small comfortable bed with high sides that secures the baby against falling. A baby crib is a bed for kids aged 6 months to five years. Parents can call this 'second generation' bed for babies as the first one is called a bassinet. A bassinet is smaller and does not have high sides, so it suits infants of up to 6 months as they cannot jump out. Cribs are in two sizes with dimensions that suit children at their early stage of growth. These include: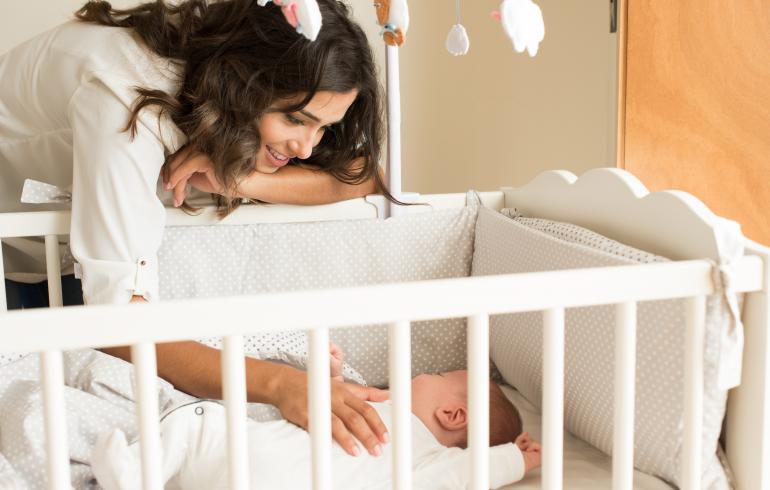 Standard crib measures 71x132cm (28" x 52")
Mini crib measures 61cm x 96.5 cm ( 24" x38")
Parents should purchase a crib before the big day for a baby to be able to use it. An early purchase allows scrutiny of crib features and airing out of any smell that comes from a new product as it is used to start.
Crib Buying Guide
The role of a crib is safety, but it should also create comfort for a sleeping or playing baby. A crib search should look out for these features.
Interior Dimension - The inside of a full-size crib surrounding the mattress should have a length of 52 inches (± 5.8) and 28 inches (± 5.8 inches) width. The variety might vary between cribs, but the important thing is the tight-fitting of a mattress. The space between a cot and its mattress should not exceed two fingers. It should require some effort to push beddings under a mattress.
The space between slats must be small to prevent the risk of a leg, arm, or head from getting caught. Crib makers nowadays space the slats safely as a safety feature, but it is vital to confirm. The recommended space between slats should not exceed 2-3.8 inches so that the baby does not slip through. The width is almost equal to that of a soda can.
Slats made of wood should be sturdy to prevent breaking.
Foot and headboards should not have cutouts to prevent a toddler's body or head from getting trapped.
Corner posts must not stick out to prevent a risk of catching clothing to cause injury or strangulation when a trapped baby tries to pull away.
Mattress support should be firmly secure. A metal spring base withstands the weight of a jumping baby more than wood.
Non-toxic paint on all the surfaces
Adjustable mattress heights to allow lowering of a mattress for older babies to make it difficult to climb out of a crib
Latches that secure the adjustable sides securely that a child cannot adjust or loosen
Best Crib Models
Beyond safety have added features that appeal to different people according to needs. There are a lot of good crib options out there. Some of the best include:
Delta Children Emery Deluxe (6-in-1) - The Delta Emery is the best convertible crib as users can spread can convert it from a toddler′s sleeping bed to:day bed, sofa, full-size bed with a headboard, full-size bed with both a head and footboard. A child can use the bed at different stages of growth with simple conversions.
Storkcraft Steveston (4-in-1) - Storkcraft Stevenson is the best multipurpose crib because of its capacity to convert from a cot bed to a day or even a full-sized bed. Additionally, it has an attached changing table containing open shelves. The mattress height adjusts to three different settings matching a baby′s growth.
DaVinci Kalani 4-in-1 - Davinci Kalani is the leading eco-friendly cot with a Green Guard Gold certification. Makers use durable New Zealand pine wood. They also screen their cribs for chemicals and VOC (volatile organic compounds) that cause air pollution. The finish is created through a non-toxic painting process without phthalates and lead. Kalani can convert into an infant's bed and then to a full-size bed. The cot also offers 4 mattress height settings.
Babyletto Hudson 3-in-1 - Babyletto is the top crib for the shorter mothers as it stands 35" tall. Its height is lower than other standard options. The Babyletto crib is designed stylishly using long-lasting New Zealand pine. The cot is GreenGuard Gold certified.
Guava Family Lotus Travel Crib - This model suits those traveling with a baby since it is the top travel crib. It is compact and weighs just 13 pounds for simple carrying. Setting up takes just a few seconds. A quiet zipper door allows closure without noise after a mother breastfeeds or cuddles a baby to sleep when at an unfamiliar place. The GreenGuard Gold-certified crib has a breathable mesh to allow optimal airflow.