Fall into Comfort with the Perfect Massage Chair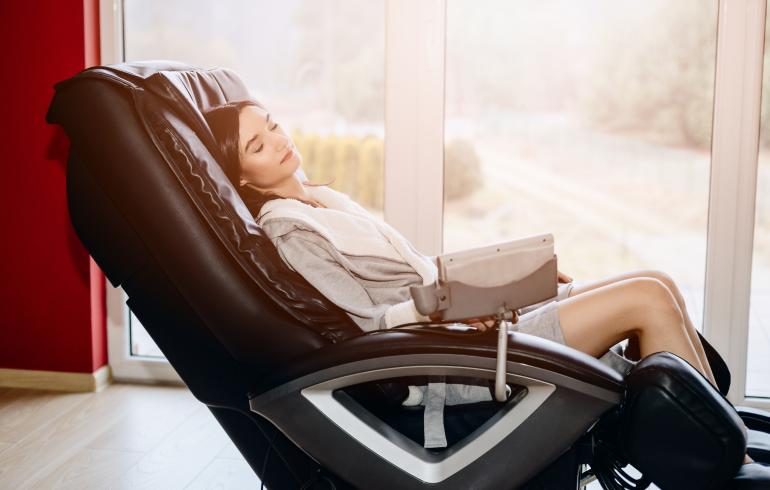 With the everyday hustle and bustle of work, our joints and muscles are bound to stiffen up and get sore.
While many of us don't have the time to visit a spa or a massage parlor, a home massage chair can answer all your aches and pains.
A massage chair incorporates the holistic features of an actual masseuse to stimulate and work on your muscles in extreme precision and effectiveness. Furthermore, these chairs don't tire out and can massage you for as long as you need as long as you have a constant flow of electricity.
In today's article, we shed some insight on electric home massage chairs, including the muscle types worked on and the popular brands in the market.
Which Areas are Massaged?
A home massage chair can target specific muscle groups with intricate precision and relaxing motions to alleviate tensions and pain from the area. These include:
Back and Neck - Most massage chairs offer a kneading feature to significantly ease out any pain throughout your upper back and lumbar region. This type of massage pattern applies pressure to your back and neck muscles dissipating it evenly in a circular motion.
Foot and Calf - A massage chair can effectively target foot and calf muscles while relieving pent up tensions and improving blood circulation throughout your feet. It is quite handy for those who commute by foot or spend most time exercising or cycling.
Spine and Supporting Muscles - Sometime during the day, you find yourself in a lousy seating position, which ends up affecting your spine. A massage chair helps stretch your compressed spine by reclining into a position that safely arches your back. In this position, most chairs have a gentle massage or vibration feature, which helps relax your spinal tissue and supporting muscles. Some advanced varieties incorporate a grip on your calves and shoulders to stretch out and dissipate the muscles' tension.
Features You Want
Massage chairs are not limited to only massaging you; instead, they offer a variety of essential features that can enhance your massage experience.
Infrared Heat Therapy - Heated massage chairs help increase your level of comfort by elevating your body temperature at an excellent level of warmth. Furthermore, the heat helps relax your muscles and joints, especially with arthritis as seen in heat therapy.
Recliner - Recliner massage chairs help to comfortably align your spine and feet by reclining at an adjustable angle. This allows you to lay back further without having your massage at a straight-up seated position. Furthermore, it enables one to doze off in extreme comfort without applying pressure to their muscles.
"Zero Gravity" - Like recliners, zero gravity massage chairs recline even further to a point where your legs levitate above your head. Sure enough, this feature is quite safe and useful as it effectively stretches out any persistent and stubborn muscle pains, improves your blood flow, and realigns your spinal disks.
4-way roller - These chairs come equipped with four roller balls that stretch out and massage your back and spine effectively.
Full Body Massage - This feature enables you to experience a full body massage without targeting any muscle group specifically. It works on all muscles in general.
Popular Massage Chairs
There are many great massage chairs on the market today. It's a good idea to shop around. You want to find a chair that looks good in your home while providing you with all the massage therapy that you want.
Osaki OS-4000 Zero Gravity Massage Chair -This fantastic chair is an essential massage chair which manages to incorporate the functionality of zero gravity without skimping on comfort. It offers an exceptional massage experience. It comes with a handy easy-to-use controller to enable you to change your settings at your discretion.
Kahuna SM-9000 Superior Massage Chair - The Kahuna Superior is a massage chair that promotes zero gravity and roller massage features, which effectively stimulates your muscles and lumbar region. Furthermore, it is a cost-effective massage chair within the market that offers the right balance between comfort, efficiency, and price.
Ideal Massage Full Featured Shiatsu Chair - This aesthetic-looking massage chair is famous for a good number of reasons. Aside from its reasonable price, this device comes powered up with 3D technology to help you get an essential massage, which effectively stimulates a majority of muscle groups. This is carried out with 3D sensors, which scans your spines curve and physical attributes to create a customizable massage routine to match your physique. Besides, the device utilizes a heated massage to help unravel all muscle knots and aches.