Jeans May Be a Forever Look, But Different Styles Trend Over Time
Blue jeans are an iconic piece of fashion but the style of that icon can change over the span of even decades. When you wear jeans that fit the current moment, you will either get no comment or a positive remark on your sense of style; where jeans that are not of the era and you may be called out of touch or even receive comments that use phrases like "vintage" or "thrifty" (at the best of times). How do you know what sort of style to shoot for if you are looking to modernize your wardrobe of jeans? Simple, just keep reading this list to find a thorough breakdown of the various modern trending styles of jeans. Even if you know "what" to look for, we have provided each entry with an accompanying definition so that you can verify whether or not a vendor actually knows what they are selling and is marketing it appropriately.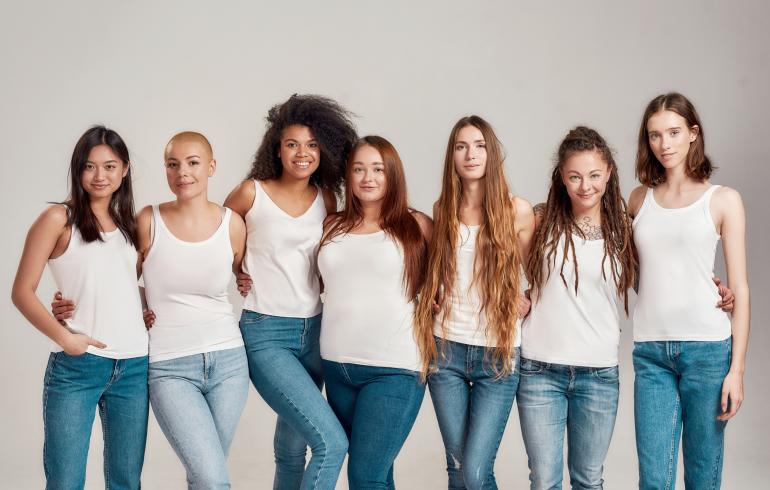 1 - Ultra Turn-Ups
While many people already tend to tweak the hemline of their jeans, designers have started to incorporate a significantly turned up leg into the design from the start. Turning up, also known as rolling up, is simply the practice of rolling the end fabric around the legs up over itself, adding a bit of contrast to the legs by displaying the interior and also drawing more attention to the wearer's socks or bare legs.
2 - Barrel-Leg
While a good pair of straight leg jeans is stylishly evergreen, barrel-leg jeans have started to pop off in popularity. Barrel-leg jeans are very close to the same idea as a tapered jean in terms of overall shape around the ankle. However, the distinction comes with how they are fitted; barrel-legs are fitted at the waist and thigh to give a much more appealing profile.
3 - Cargo Jeans
While cargo pants have been a trending piece of attire for a while, it seems that there has been a shift toward using denim over khaki cotton, resulting in the aesthetic known as cargo jeans. This particular style of lower body clothing has been the darling of influencers and fashion editors for scratching that nostalgic itch for the Y2K look. Cargo jeans feature two large gear pockets that close with a flap, situated slightly above and to the side of the knees. These tend to have a loose fit throughout the seat and thigh areas.
4 - Wide-Leg
These are one of the more sensible jean choices in a world that forced many to stay at home for two years. Wide-leg jeans make for some variety from the usuals sweats and joggers you may have grown accustomed to wearing. Like you might expect from the name, wide-leg jeans have a greater than normal width to their legs. Greater width means that your legs have more freedom of movement than with regular jeans.
5 - Patchwork
The 1970s are far enough in the past that the revival of that particular aesthetic seems to have come. One notable element of jeans from the 1970s happens to be the notion of patchwork and patch pockets. Patchwork jeans are relatively self-explanatory; rather than have a pair of jeans made of one entire pair, patchwork jeans are "patched" up with denim of different shades in order to give off a look of chaos and uniqueness.
6 - Flared
This is one of the most quintessential looks for fashionable French women that has only recently begun to trickle back across the Atlantic Ocean. Flare jeans have risen in popularity and the newest designs are even sleeker than you might remember. This is a look that works best with people who are either comfortable with showing off their ankles or who pair them with a set of skinny boots. Simply put, the hem of a pair of jeans flares out to a wider diameter than the upper portion of the legs. Bell bottom jeans are an extreme variety of flare jeans as their flare begins at the knee and continues as you reach the feet.