Microdermabrasion Can Help People Get the Skin They Desire
People who are looking for a way to minimize the appearance of age spots, fine lines, wrinkles, and other skin conditions should consider getting microdermabrasion. Microdermabrasion is a procedure that uses an applicator to sand down the thick layer of skin. This helps to ensure that the skin is rejuvenated. The microdermabrasion skin procedure is safe for all skin colors and skin types. People may choose to get this procedure if they have the following issues: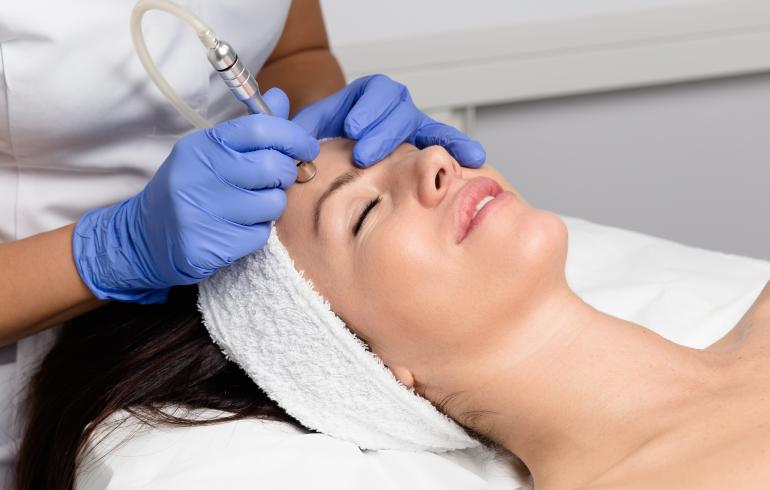 Age spots
Brown spots
Enlarged pores
Blackheads
Acne scars
Fine lines
Wrinkles
Stretch marks
Dull skin
Sun damage
This procedure offers a unique way to have youthful looking skin that does not take long and does not cause pain. Many people choose to have this procedure done with great results.
The Microdermabrasion Procedure
The procedure for microdermabrasion is done in the office. It usually takes about an hour to complete the process. It must be done by a licensed skin care professional. In some cases, this procedure must be done in front of a healthcare provider. This will all depend on the state where the patient resides in. When the patient arrives for their appointment, they will be seated in a reclining chair or bed. There will be no numbing agent or anesthesia given for this process as it does not cause pain. Once you are seated in the chair, the provider will then sand away the outer layer of the skin. There are three methods used on the skin for this kind of treatment. They are:
Diamond-tip handpiece - If a diamond tip handpiece is used, it will exfoliate the dead skin cells of the skin. A small vacuum like attachment will suck the dead skin off as they go. The abrasion method will be affected by the pressure that is used. Typically, this applicator is used around the eyes and other sensitive facial areas.
Crystal microdermabrasion - This uses a crystal-emitting handpiece that sprays on fine crystals. These crystals take away the outer layer of skin. Dead skin cells are removed immediately during this procedure.
Hydrodermabrasion - This method uses crystal free exfoliation and skin infusion process. This process helps to increase blood flow to your skin.
Potential Risks
If done correctly, microdermabrasion has few risks. This is why it is imperative that patients make sure that they are only going to a skin care professional that knows what they are doing and are fully licensed. Possible risks can include:
Infections due to improper sterilization of the apparatus.
Eye irritation. Improper use may cause crystals to enter the patient's eye.
Skin damage. If the apparatus is used incorrectly, damage to the skin can occur.
These risks are only seen when the procedure is done incorrectly. It is common to experience a few side effects after the microdermabrasion procedure. These effects should go away quickly. Some people may see an acne breakout, redness of the skin, enlarged pores, and swelling. If this does not go away in a day or two, the skin care provider should be contacted.
How Much Does Microdermabrasion Cost?
When a person decides that they want to have a microdermabrasion procedure, they will want to know the cost. Typically, this procedure generally costs between $150 to $200. This will all depend on what is done during the procedure. It is important to note that since it is not a medical procedure, insurance will not cover microdermabrasion. To save money when getting this done, a patient will want to make sure that they do some research in their area to see who offers the best prices. In some cases, they may be able to get discounts off of first time procedures or combine it with another procedure. It is important for a patient to not put the cost as a main factor to have this done. While they can look for deals, it is very important that they do not choose someone just because they will do the procedure cheaply. Getting microdermabrasion done cheaply can end up with the patient hiring someone who is not really qualified or competent.