Never Go Camping Without Every Item On Your Checklist
Have you ever gone on a camping trip, only to realize that you forgot an essential item. It may seem like a small mistake, but it can be disastrous. Whether it's forgetting your sleeping bag or not packing enough water bottles for the trip, having everything on your checklist will make your camp out much more enjoyable and less stressful. If you enjoy camping but don't have the time this summer to plan a trip, don't worry! We've got you covered with these essential items for your checklist. While this list isn't exhaustive, it's a good place to start! Every camping trip can require different needs based on the time of year, weather and location. You will be ready for anything, and all of your worries about forgetting something will go away.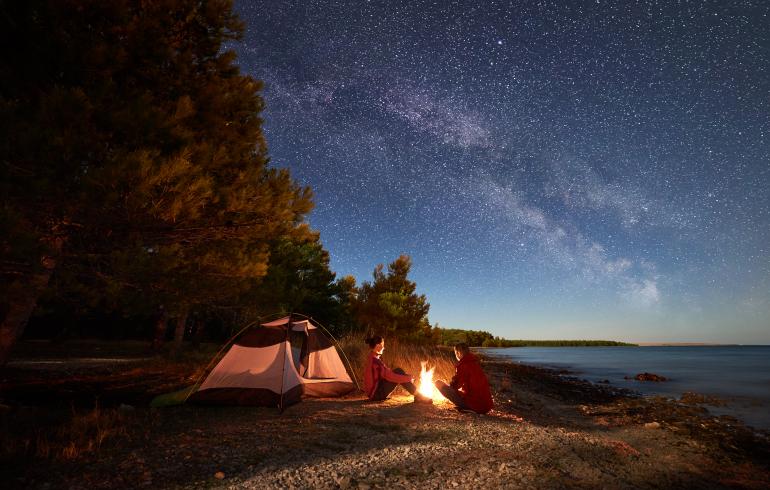 1 - Tent
The first item every person going to camp needs to carry is a tent. There will be many options for you to choose, like a family and solo person type. 6-7 persons can stay in one tent if it is large enough and everyone is fine with sharing a little personal space. The design of the tents should be comfortable and advanced for the people who are planning to go camping in a middle range altitude, mountains, forest, etc. Most people prefer nylon tents since they are more durable, breathable, and lightweight than other options.
2 - Sleeping Bag
Every member going to the camp needs a sleeping bag. Sleeping bags are great items to keep one warm, relaxed & comfortable during the nighttime. They can choose any sleeping bag according to their needs and requirements, like a down feather or goose feather option. There are several sleeping bags available in the market, it is advisable to go for one made with polyester fiber as it will keep you warm at any temperature.
3 - Sleeping Pads
Sleeping pads are necessary to have a good night's rest. Without them, you're going to be waking up in the early morning hours in pain as your body sweats while lying on the ground without one. The primary function of these pads is just like any other polyester or cotton-based mattress, but they come with an additional feature of being waterproof. You can also use it in any season, be it summer or winter. A decent quality sleeping pad should provide a comfort level similar to that of a bad home mattress. It's not really reasonable to expect a small pad to offer as much support as a really good mattress, but they try. Some pads are designed for extreme backpacking trips and made up of bulky foam, which is difficult to carry. But for camping, you can use any type.
4 - Camping Pillow
This is an often forgotten part of the camping experience. All the members in the camp need a camping pillow on which they can rest their heads while sleeping. This pillow is significant for campers and backpackers who love to go hiking or any other adventure trip. It will help and support your head while sleeping on the ground. Some of the varieties of these pillows are blow-up, memory foam, and ordinary ones. All these kinds are designed for different purposes. These pillows also come in a variety of sizes. Generally, they vary from 30 to 50 cm wide. Some models also have extra straps that you attach to the tent and make it more stable.
5 - Head Lamp
The nights are seemingly darker in the mountains, and there is a high chance of tripping on anything that lies around. So, to make your living easy, you need a headlamp to prevent any injury caused by tripping over something. The lamp will also help you go out for an adventure in the night, or you will otherwise get lost. It will help you keep items intact as you will be able to see them while searching for something that may have fallen..
If there is a chance of rainfall, it would also help you find the washed away items during rainy days. And the most important thing is that it does not require extra effort since it's lightweight and you can carry it around.