People Swear by Their Favorite Body Scrubs
Body scrubs are a wonderful way to achieve soft, smooth skin. Body scrubs use a mild abrasive ingredient such as sugar or salt to physically remove dead cells from the surface of your skin. This process leaves the rough, dry patches on your skin silky smooth. Another great benefit of using a body scrub is that it stimulates new cell growth, leaving your skin much brighter. Body scrubs are an excellent way to achieve the healthy looking skin you desire. With a vast variety of scrubs on the market, it is easy to find a product that will suit your needs. When using a body scrub, make sure to remember not to apply too much pressure. Using a body scrub should not induce any pain, but should be a relaxing experience. Here is a list of the best body scrubs available.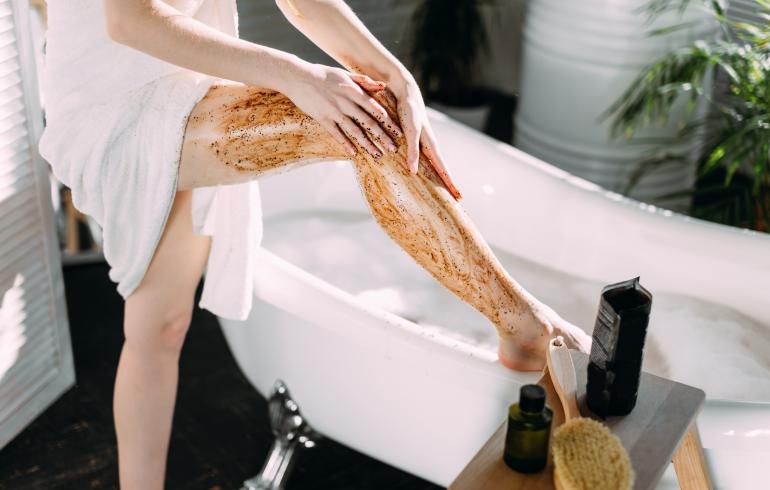 1 - Softsoap Coconut Butter Scrub
This is a great drugstore brand body scrub that offers wonderful value and can be found in any store. The large bottle lasts quite a long time, and the soft, creamy texture is very luxurious. The sweet coconut scent will transport you to a tropical paradise. This great formula retails for less than the price of your favorite coffee, meaning you can indulge and your pocketbook won't suffer. Make your everyday shower feel like a spa experience.
2 - Shea Moisture Coconut & Hibiscus Hand & Body Scrub
This is another great scrub option that won't break your bank account. This natural based formula features coconut oil and shea butter. These ingredients are known to be incredibly moisturizing and will keep your skin looking on point and healthy. The formulation is also gluten free, paraben free, phthalates free, mineral oil free, and cruelty free. You can absolutely indulge with a clean conscience while using this product.
3 - Caudalie Crushed Cabernet Scrub
Looking for a more exclusive, high end product? The Caudalie Crushed Cabernet Scrub is right up your alley. Made in France, this product features crushed grape seeds and 6 essential oils. The luxurious formula will leave your skin smooth, and nourished. It is great to replenish oils lost during the day. It has also been tested and proven to be skin toning. Use twice weekly and see up to 1.5 inches removed from your thighs! The formula has 99% ingredients made of natural origins.
4 - First Aid Beauty KP Bump Eraser
Do you suffer from rough, dry patches of skin with tiny bumps? You may have a condition known as Keratosis Pilaris. This formula is specially designed to help alleviate the symptoms of this condition. The formula includes different acids including lactic. These agents combined help to loosen and remove the skin's outer layer as well as the decongest pores. This body scrub allows you to lightly exfoliate through the other comforting and enjoyable pumice buffing beads. Say goodbye to those unsightly bumps!
5 - Frank Body Original Coffee Scrub
This 100% natural, vegan body scrub will work magic on your skin. This formula works wonders on cellulite, stretch marks, and scars. The scrubbing agent is coarsely ground coffee beans and the formula also features sweet almond oil that has been cold pressed, vitamin E and sea salt. This will take on your dry, flaky skin without irritating it and also offers antibacterial properties to help fight breakouts.