Pick the Right Hiking Boot To Ensure a Great Day Out Hiking
Arguably the most important part of going for a hike is your footwear. You need to protect your feet and give yourself proper traction. However, when it comes to hiking boots, there's always a trade off. If you choose options with more waterproofing to keep your feet dry, they will heat up more. If you go for more comfort, then they won't be as stiff and provide as much protection. It's a difficult balance to find. In the end, you may want to choose different hiking boots for different conditions.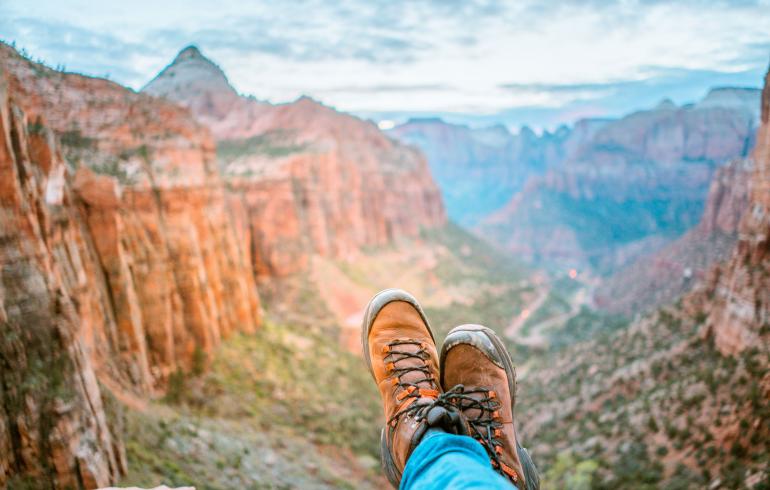 Each year, apparel companies are putting out hiking boots for consumers with the intention of making them the latest and greatest. In some cases they fail. Other times you get some fantastic hiking boots utilizing new technology and ideas. This list is some of the most impressive hiking boots on the market today to try to help you find the boot that fits you just right.
1 - Merrell Moab 2 Mid
These mid cut hiking boots won't break the budget (cost around $135) and provide solid quality levels. They aren't intended as expert hikers and shouldn't be taken if you're going on any marathon hikes, but are perfect for the recreational hiker. When it comes to sizing, they tend to be more comfortable to people with wide feet. Available in both mens and womens sizes, the styling matches and is solid. They are also listed as waterproof, so that's always a plus!
2 - Salomon X Ultra 3 Mid GTX
This is another excellent all around hiker that can be used for almost any situation. Despite the protection, this hiking boot is surprisingly lightweight, allowing it to easily respond to your movements. Admittedly this means that it's not quite as thick on the bottom of the shoe. Large root bumps can certainly be felt if you're careless during the hike. The lug design on this option grips beautifully, so slipping isn't a concern.
3 - Lowa Renegade GTX Mid
If there's one item on this list that looks like a hiking boot should, it's the Lowa Renegade. This is a waterproof hiking boot that can take the punishment you expect. Despite the size and look, it manages to stay relatively lightweight. It's ideal for moderate hikers who may have a heavy pack with them as it gives strength on the sides and below the foot. Cutting weight does mean that the long term outlook isn't the strongest. It can come apart after heavy use, but excels while in good shape.
4 - Scarpa Zodiac Plus GTX
This is a more expensive hiking boot that provides Gore-Tex waterproofing. This boot costs around $270 and is ideal for heavy trails or hiking without trails. Somehow the traction on this boot is incredible and gives a sort of running shoe feeling. Despite that, the stability is off the charts. The only real downside is that maybe this hiking boot is a bit too much for most people. Casual hikers won't really make use of it. It's like owning a pickup truck specifically for two trips to a cottage each year. That being said, if you want the best, then this is a fantastic choice.
5 - Hoka One One Sky Toa GTX
This is the lightest of the hiking boots available on this list. In fact it can probably be placed into the ultralight category by how much weight has been removed from the shoe. Despite that, it's incredibly comfortable. The cushioning is lightweight, but thick. Flexibility is high so your foot can move around comfortably. Of course, this means that it's not ideal for heavy terrain when your foot and ankle could use some extra stiffness and support. For people who like to hike at high speeds or on maintained trails, this is absolutely the shoe for you.