The Right Catering Service Enhances Any Event
Food is one of the most important parts of any party or event. Whether you've got fancy hors d'oeuvres being provided by wait staff or some delicious buffet style soul food, food is crucial! There's plenty of great cooks and chefs in the world. But not all of them are remotely capable of cooking for so many different people.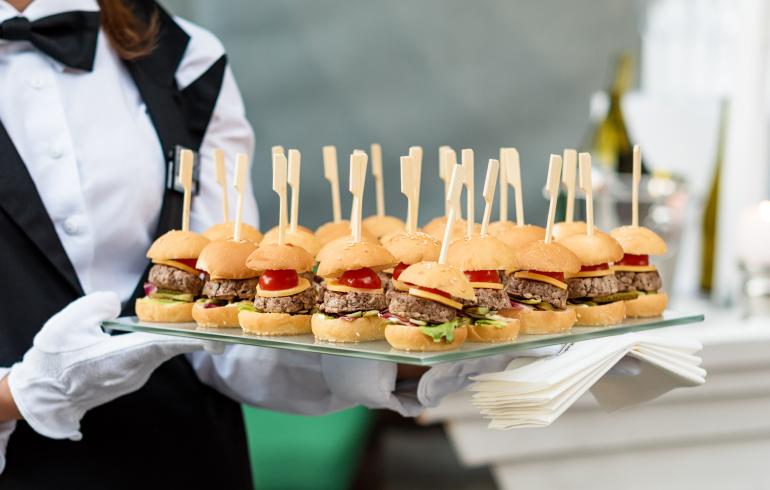 This is where catering services come into play. Caterers can be hired to provide food to large groups. There's many different types of catering. People often choose from wedding catering, buffet catering, corporate catering, restaurant catering and delivery catering. The perfect meal or food will make for the perfect event. However, to get the right food you need to choose the right catering company. That's where things can get tricky.
How to Choose a Catering Service
When it comes to your caterer, the first thing you need to make sure about is their capability to handle your event. The larger the event, the larger the service needs to be. It's important to ensure they can handle both the cooking and serving of food for the number of people you have.
The second thing is that your caterer must be willing to alter their menu for you. This isn't to say that you demand obscure meal options that they don't normally make. They need flexibility when dealing with the numerous different diet requirements that people have. Many caterers can take their basic menu and alter it for any diet or person, from vegans to diabetics.
When you're looking into a caterer, they need to be willing to provide a tasting of their fare. If they ever ask you to take them on their word, move on and pick someone else. This is all about transparency. A caterer needs to ensure that they are very transparent about every service they offer along with their food. There should also be a method for cancellation and it should be very clear what kind of penalties could be involved in cancelling.
There's a few other things that need to be considered. Make sure that the company has liability insurance in case of accidents. You don't want a legal incident to damage an otherwise wonderful event. They should also provide references from past events that you can check in on. It's always good to know how a caterer has performed at a past event.
Reasons to Use Catering Services
It's unlikely that you're going to be using a catering service every day of your life. There's a reason that you want to feed a large number of people after all. Some of the most common reasons to get catering services include:
Weddings - Everything needs to be perfect during a wedding and that includes all of the food involved. Many catering services dedicate themselves specifically to weddings.
Wakes - Getting together after a funeral can be a difficult time. The last thing someone mourning a loved one wants to do is cook for dozens of people.
Work and Corporate Events - Whether you are putting together a summer BBQ, winter ski getaway, catering can ensure that large work events feed hungry employees. Employees always appreciate when their company gets them a free meal or two!
Fairs and Activities - One of the best ways to get good catering services at outdoor events is through food trucks. Food trucks have never been more accessible and exciting. Great chefs can produce a large amount of food. Getting more than one food truck and allowing for some great variety.