There are Many Places You Can Only See By Kayaking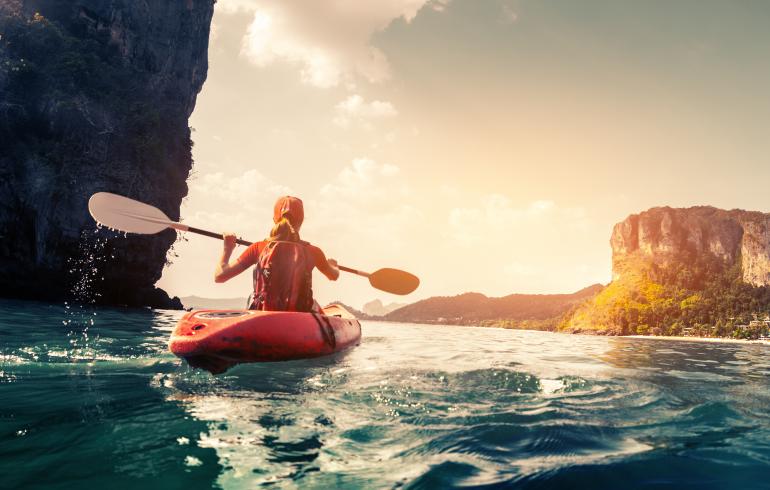 The summer is the perfect time to get out on the water. Those interested in taking on a new hobby may enjoy spending their weekends kayaking.
Being outside on a sunny day enjoying the beautiful sites of an ocean or lake brings kayakers a tremendous amount of happiness.
It is also a great idea to go on a kayaking vacation, which allows people to see some of the most incredible views on the planet. Via kayaking, vacationers can see views of the most stunning bays and beaches. They can spend time relaxing on the beach once they're done rowing and site seeing. Swimming in the warm waters is also a great advantage of a kayaking vacation. In addition, there are many other benefits that kayaking brings, such as exercise and general wellness.
Benefits of Kayaking
There are numerous benefits from kayaking that the everyday layman will enjoy once taking on this new hobby. Some of these advantages are described below.
A fun way to exercise
Enhanced cardiovascular fitness
Stronger muscles in the back, shoulders, and arms
Greater leg and torso strength
Little risk of a sports injury
Improves mental health due to being a peaceful and meditative activity
Enjoyable for water lovers
Kayaking is truly a fun and enjoyable way to exercise. Instead of heading to the gym and running on a treadmill, kayaking offers a way to be outdoors in the fresh air while getting your daily dose of fitness.
Furthermore, kayaking will strengthen the heart and muscles due to the vigorous rowing it requires. The torso and legs will also be stronger because moving a kayak requires rotating the torso and adding pressure using one's legs.
In addition, there is little risk of a sports injury from kayaking because it is a relatively low-impact sport. Along with better physical health, one's mental health will improve due to this peaceful activity. Lastly, this sport is perfect for water lovers.
Equipment Needed for Kayaking
For those interested in pursuing kayaking this summer, this list of kayaking equipment is essential in order to have a successful trip.
Kayak
One main paddle along with a spare paddle
Vehicle rack for the kayak
Life vest
Spray skirt on cold or rainy days
A spare paddle could be very helpful in case a novice makes a mistake and loses their paddle when out on the water. Life vests are also essential to keep one safe in case of an accident. Kayakers will also want to bring the following things to keep themselves comfortable and safe when out on the water.
Water bottle
Sunglasses
Hat
Sunscreen
Waterproof phone case
Dry bag
Beach chair
Lastly, the following list will detail exactly what kayakers should wear on their trip whether it is a long outing covering multiple days or only an afternoon at the beach.
Wetsuit or swimsuit
Wet shoes with rubber soles
Towel
Clean clothes to change into after kayaking
By bringing these items, kayakers will stay safe, comfortable, and enjoy their outing or even their entire kayaking vacation.
Most Beautiful Kayaking Vacation Destinations
There are numerous amazing vacation destinations for those who love kayaking on their adventures. Some of the most beautiful kayaking vacation destinations include Crete's Southern Coast, the Belize Barrier Reef, the Galapagos National Park, the islands of Fiji, Halong Bay in Vietnam, and the Sermilik Fjord in Greenland.
Crete is a Greek island with more than 600 miles of clear waters for kayaking and enjoying the sites. Kayakers will enjoy seeing the mountains and landscape of the coast. They'll be able to discover sea caves and relax on the pink-sand beaches.
The Belize Barrier Reef is the second largest in the world and kayakers can find more than 500 species of fish swimming around in this reef. Sea kayaking is one of the few options available for those who want to be on the waters of the Galapagos National Park. It will allow one to see multiple exotic animals such as the blue-footed booby, sea lion, and marine iguana.
These amazing vacation destinations will be perfect for paddlers who prefer to be out on the water. With the right equipment, any kayaker can have a great vacation at one of these beautiful kayaking destinations.