There Are Plenty of Desk Styles to Choose From For Your Home Office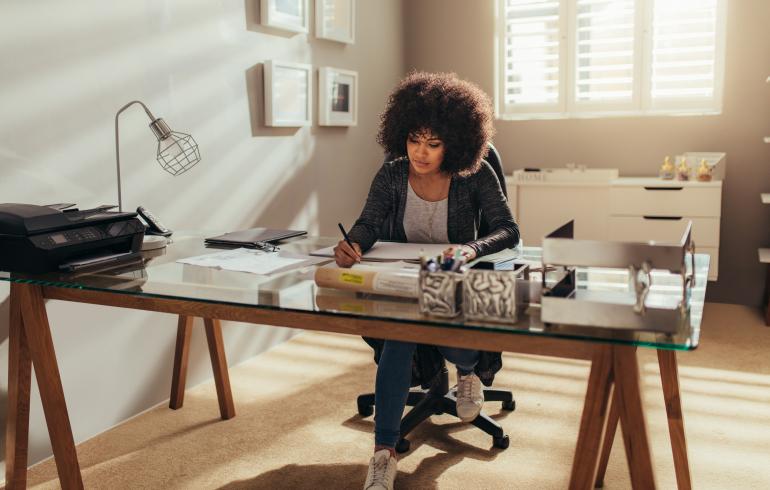 More than ever before, people are either choosing to work from home, or being required to do so.
Though a person who works from home can work about anywhere, and a desk can be made of old boxes stacked on top of each other or do double duty as the kitchen table, people who are lucky enough to have a home office might want to work in style. One major aspect of a stylish home office is the desk, and when it comes to desks there is a great variety to choose from. The perfect desk could be anything from a Louis XV bureau with gold plated hardware and marquetry to a Victorian partner's desk with cabriole legs. It might be a tambour desk with a roll down cover that hides a dozen tiny drawers. It can be an all-in-one Herman Miller desk from the middle of the last century with tubular metal legs and a faux leather writing surface or an L-shaped desk with a hutch for people who have lots of space. Quite simply there are tons of options when it comes to desk. This article will focus on some very popular options on the market.
1 - Standing Desk
The standing desk has become more and more popular over the years, most likely as a result of people understanding that sitting in a chair for hours at a time is not optimal for the worker's physical or even mental health. It is quite simply a desk that allows the worker to stand up comfortably as they work. Many of these desks can be adjusted so that the worker can sit when they feel like sitting, then return to a standing position later on. The health benefits of standing desks are impressive. Standing puts a person at lower risk for the weight gain that can lead to obesity. Standing desks also lower blood sugar, which lowers the risk of type 2 diabetes. Working at a standing desk may also lower the risk of cardiovascular disease and back pain and may even boost the worker's energy level and productivity.
2 - Executive Desk
An executive desk is a type of pedestal desk. This is a desk that has two pedestals, usually with drawers in each pedestal, that support the writing surface. However, an executive desk is more magisterial than a pedestal desk, being both deeper and wider. It may also be made out of more sumptuous materials such as solid hardwood and stylish hardware. The pedestals reach down nearly to the floor and may be supported by carved feet, and the desk has a modesty panel at the back. Executive desks also have two drawers to hold files, while a regular pedestal desk may have only one or none.
3 - Computer Desk
A computer desk is, as its name suggests, made for the worker to use a computer comfortably. Though it's true that a computer, especially a laptop, can be put on any type of desk, these desks are smaller and usually have only one pedestal with the rest of the writing surface being held up by legs. They often have a tray that can slide in and out of a compartment that's used to hold the computer's keyboard. Some computer desks are L-shaped and have enough room to accommodate a hard drive and a printer, or have a shelf on the writing surface to hold the computer monitor.