Treadmills Are One of The Best Ways to Get Cardio at Home
It's no secret that treadmills are considered the most popular at-home exercise equipment. For teens and adults, these fitness machines offer superb cardio and aren't built just for running. One can also do walking lunges, side shuffles, reverse mountain climbers, incline pushups and other body/heart-strengthening exercises. Social media has many celebrities boasting about their fitness routines and showing off their treadmill prowess. Some of these fit and fab stars include The Rock, Beyonce, Jennifer Aniston, Fifty Cent and Stephen Amell. Don't forget Taylor Swift. The long and lean pop superstar says that she spends an hour a day on the treadmill when road touring, and she loves running to the beat. It keeps her focused and with high energy. While there's no need to try to become like them, treadmills are a great choice for many homes to get the kind of workout you need.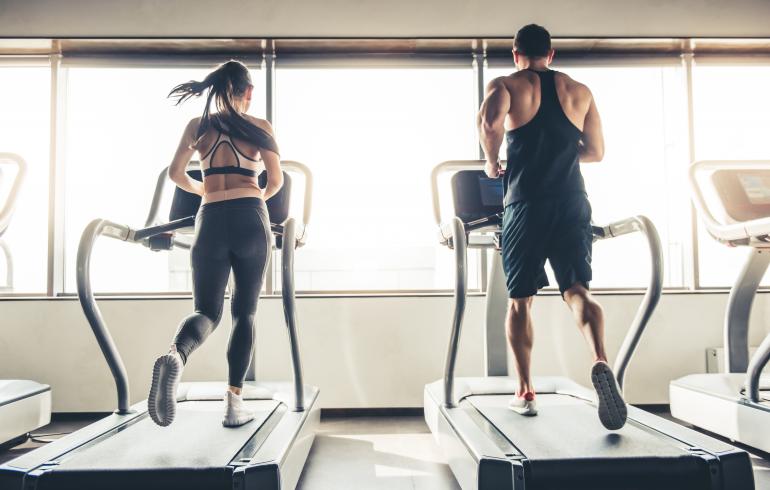 Benefits of Using a Treadmill
It's a cardiovascular thing, which means that the heart is pumping, and the large muscle groups are working. This, in turn, makes the heart and lungs work efficiently. Studies also show that when one does cardio, such as on a treadmill, muscle size can be increased without doing resistance exercises.
Another plus when working out on treadmills has to do with protecting the immune system and keeping the body healthy. For example, the thymus gland produces essential immune cells known as T-cells, but when one gets older, fewer T-cells are made. Cardio exercise reinvigorates the thymus gland to start putting out new T-cells for stronger body immunity.
Hopping on a treadmill daily also lifts one's spirit, and that's a good thing. The cardio aspect helps an individual to decrease their output of stress hormones. A good run on the treadmill boosts overall blood flow and saturates the mind with fresh energy and oxygen. It's a feel-good moment.
Best Treadmill Features
Knowing about a treadmill's unique features can help a person achieve the best in cardio training whether it's for general fitness and health, athletic performance or rehabilitation. Fitness trainers recommend these four factors when choosing a treadmill:
Size - Empty space key for access and safety
Adjustability - Speeds and inclines vary
Connect Features - Docks available for wireless, smartphones
Ergonomics - Machine needs to be comfortable while walking, running
Some of the best treadmill features include:
Automated Incline. Treadmills with inclines can make exercise easier on the joints, allow for better muscle toning and create faster calorie burning.
Workout Programs. Some fitness folks are seeking extra technology and programs such as iFit that offer unlimited personalized workouts and come free with certain brands.
Wireless Pulse Monitors. Treadmills that have this feature can allow the user to receive accurate heart rate data and to keep one in their target heart rate zone.
Virtual Passports. Certain treadmills offer the user ambient sound and scenic settings as they exercise. This is created through a Passport player in combination with one's home TV.
Popular Models.
Treadmills are becoming better and smarter exercise machines, and there is a wide variety to select from depending on one's idea of equipment innovation, fitness level, fitness objective, budget, etc. The most popular treadmill models include the following units:
Nautilus T616
Echelon Stride
NordicTrack Commercial 2950
NordicTrack EXP 10i Treadmill
NordicTrack Commercial X32i
Sole F8o
ProForm SMART Pro 2000
Goplus 2-in-1 Folding
Bowflex Treadmill 22
Horizon Fitness T101