Usefulness and Style Come Together In the Form of Sunglasses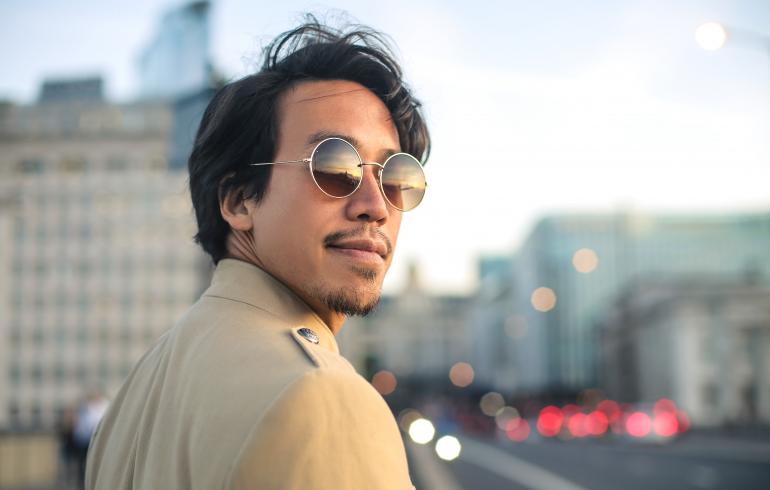 Sunglasses have the main goal to protect your eyes and filter out the sun's dangerous UV rays.
While those features are the most important for vision purposes, a majority of wearers more often will think instead about the looks that they get from the many fashions that are constantly being encouraged for that eyewear whenever current fashion trends are shown.
Because they are often worn non-stop outside, especially in very sunny climates, sunglasses have gotten more varied and glamorous over the years. They have been around "forever," and they still get reviewed for the latest and new trends every year, which are eagerly awaited by their always-devoted fans.
How Much Protection Do Sunglasses Offer?
Today's sunglasses have ultraviolet (UV) protection embedded right in the lens instead of just being coated over the lens. Look for the label saying "100% protection against UV 400" or "100% protection against UVA and UVB." If eyes get too much exposure to UV light, whether from sunlight or indoor artificial rays, temporary sunburn or even permanent damage could happen in areas including the cornea retina's thin, surface layer.
Good sunglasses completely eliminate UV rays and also provide protection from intense light. If your eye receives too much of that intense light, it will close the iris naturally. The sunglasses also have an anti-scratch coating so your eyesight is not disturbed by seeing scratches. Dark-tinted lenses cut down on glare but don't provide enough of the important UV protection.
Sunglasses Styles
The range of patterns, colors, materials, and styles are endless. Some popular and trendy styles for 2020 have geometric frames, retro shapes, reflective lenses, glitter, and vibrant colors that were inspired by styles from the late '90s. However, if you prefer the vintage-inspired look, you will find them as well.
Many sunglasses are chosen to go with the clothing that the wearer plans to accentuate. They are an instant boost to an outfit and make a statement. If they go with everything, have been updated to a fresher style, and can be worn all through the year, they will make your look outstanding.
Granny Glasses are oversized with retro square shapes and feel like ones Grandma would have worn. They are said to look good on anyone. Chained is another "grandma" trend with the attached chains in everything from beads to pearls to classic gold chains.
The Wayfarer, introduced in 1952, has plastic frames and trapezoidal lenses, which are wider at the top than at the bottom. Famous celebrities who wore them were Elvis Presley, James Dean, The Beatles, Roy Orbison, and others.
The Ray-Ban Aviators were redesigned by in 1939 with a metal frame and Kalichrome lenses that sharpened details and minimized haze by filtering out the blue light. There has been a return to this timeless style.
Best Retailers for Sunglasses
There's plenty of places to get your sunglasses. Some of the most popular and well shopped locations include:
Ray-Ban is a brand of luxury sunglasses as well as eyeglasses that were created in 1936 by an American company that sold the brand in 1999 for $640 million. The purchaser was Luxottica Group, an Italian conglomerate based in Milan, Italy, the largest eyewear company in the world.. The brand is known for its Wayfarer and Aviator sunglasses lines.
Luxottica is the designer, manufacturer, distributor, and retailer of its eyewear brands that include Pearle Vision, LensCrafters, Target Optical, Sunglass Hut, Apex, Glasses.com, and the Eyemed vision care plan.
Michael Kors' Aviator Nation has a classic shape but adds "flash" with blue reflective lenses that shine.
Tiffany & Co.has a Shield Yourself with ultimate eye protection, a flattering style, and even ultimate style with rose gold reflective lenses!
Coach has the Purrfect Cat-Eye, which has that type of classic shape but adds style, for example, by being in jungle green.
Dolce & Gabbana has a Down to the Wire style that is lightweight with a wire frame that is not heavy on your face.