Using an Air Fryer Results in a Delicious Meal
While it seems like air fryers have become the new fashionable kitchen appliance, that proliferation and awareness are not because certain celebrities have touted their multipurpose nature. While frying is obvious,even the process of frying your food with one of these appliances is a bit different, as is being able to bake goods.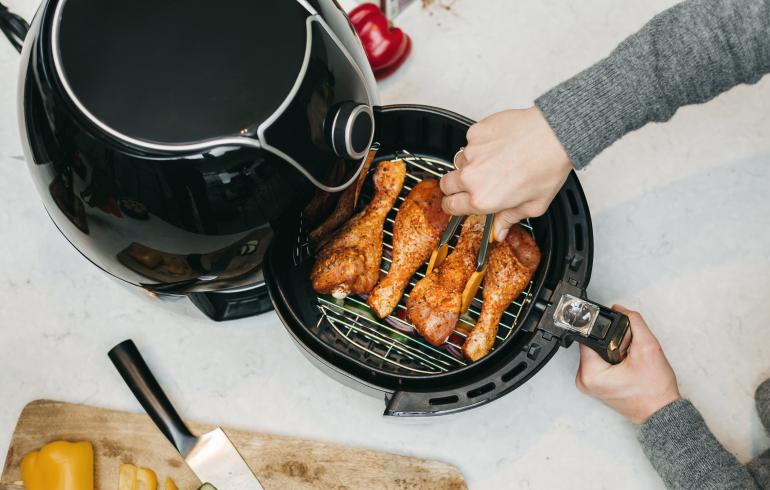 That is right, air fryers can do more than just fry up your food. This article has been written with the goal of clarifying why someone might want an air fryer, explaining some of the notable brands and models of this particular kitchen appliance and, most crucial of all, what sort of delicious foods you can make with an air fryer. Soon you'll be using an air fryer like a professional and reaping the tasty rewards.
Features of an Air Fryer
An air fryer is a kitchen appliance with a variety of different features and modes. The operating mechanism is a combination of a compact space, convection oven and high speed fan to circulate the heated air within the chamber and cook food and bake dough.
The way an air fryer functions means that the user can cook food without using nearly as much oil as would be needed for cooking with a traditional fryer. Both devices cook food by inducing the Maillard effect, albeit in different ways. A traditional oil fryer cooks by submerging food in oil that has been heated to a range of temperatures between 284°F to 329°F; an air fryer cooks by blasting the food with air that has been heated up to 392°F or hotter, in the case of some models. An air fryer can achieve results in 80% of the time that it would take a traditional oven. They are multi purpose and you can reheat, roast and defrost food.
Popular Models of Air Fryers
While convection ovens have been a household appliance since 1945, the very first model of air fryer debuted at a German consumer electronics fair in 2010. This was Philips' new design, a way to cook food with a patented "Rapid Air" heating mechanism.
While early models are shaped much like a barrel, newer innovations have shaken up this monotony by introducing air fryers resembling other appliances like toaster ovens or pressure cookers. These variant designs are also intentional, as they tend to be designed in a way to provide the sort of functions related to their recognized shape.
The leading brands of air fryer within the United States of America would be Ninja, GoWise, Farberware, and NuWave. While not the most wide-reaching of brands, other brands that offer one or more models of air fryer include Bella, Black+Decker, Chefman, Cuisinart, Dash, George Foreman, Gourmia, Hamilton Beach, Instant Pot, Kalorik, Krups, Magic Chef, Oster, Philips and Power.
Best Foods To Make
An air fryer offers a lot of different options when it comes to preparing food in less time and with less oil than an oven or oil fryer. Just remember to consult your air fryer's cookbook for suggested times and cooking temperatures when you decide to prep food not coming from a box. Some of the best items you can make in an air fryer include:
Apple chips - Slice some apples nice and thin, season with some cinnamon and sugar and pop in the air fryer.
Bacon-wrapped avocado - The name says it all and it's two kinds of deliciousness.
Blooming onions - The carnival favorite can be made with far less oil than normal.
Chicken tenders - A classic of deep fryers everywhere.
Chicken wings - Arguably the best way to make home chicken wings, just apply sauce afterwards.
Empanadas - There's plenty of flavor in these little pouches.
French fries - There's no item that is more iconically fried.
Mozzarella sticks - You can get a perfect ocok on these tasty treats in an air fryer.
Steamed vegetables - Some water as opposed to oil will make for a perfect steamed veggie.