We Live in the Golden Era of Dishwashers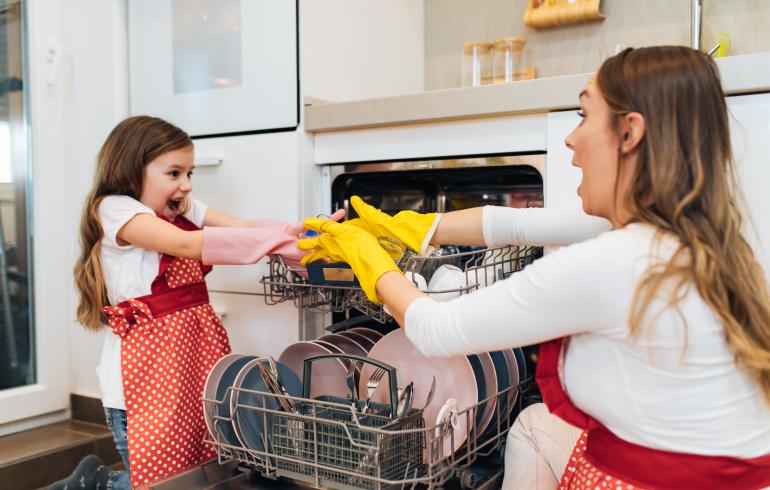 Years ago, the only way to make a dirty dish clean again was to wash it by hand.
Any attempt to clean up after a meal simply had to include getting yourself up to the elbows in suds. Since the invention and dissemination of the dishwasher, this once-frustrating chore has only gotten easier and easier. Now, washing the dirty dishes is as simple as placing them in a machine and hitting a button.
All the same, dishwashers still bring their own frustrations. Sometimes they don't work as well as we'd like them too. They can be noisy, inefficient, or prone to frequent breakdowns. Luckily, every year has seen improvements in the quality of the dishwashers available to the public. Nowadays, these machines are more energy-efficient and better functioning than ever before. We really do live in the golden era of dishwashers. Of all the excellent machines on the market today, these are doubtlessly among the best.
1 - Bosch 500 Series
When it comes to aesthetics, you can't possibly beat this new dishwasher. Its sleek design makes it a perfect fit in almost any kitchen. It's also remarkably quiet, so you won't even notice it washing away at your dishes. It has a number of wash options, allowing you to choose just the right type of cycle for each particular load. In a spiffy new innovation, the door automatically opens ajar once the washing is complete, letting moisture escape so your dishes are dry and ready for storing as quickly as possible. With so much to offer inside such a pretty exterior, this is perhaps the best overall washing machine on the market.
2 - Whirlpool WDT710PAHZ
Costing around five hundred dollars at most retail locations, this appliance is fantastic value. Whirlpool is a respected industry leader for good reason, having provided quality products for decades. This particular model features five different cycles and a number of unique settings. The upper rack is adjustable, giving you more flexibility to wash dishes of all shapes and sizes. While not completely silent, the machine is quiet enough to avoid causing a disturbance in the home. Consumers regularly tout the dishwasher's performance, attesting to its soil-removing and dish-drying capabilities. If you're looking for a quality machine that won't break the bank, you can't do much better than this new Whirlpool dishwasher.
3 - Bosch 300 Series
A quality machine at a decent price, the newest model in this famed series has left consumers beyond satisfied. The interior is entirely made from stainless steel, meaning you can count on it to last. This series has long been synonymous with quiet machines, so you can trust you won't find the dishwasher disrupting your relaxing Sunday afternoons. The innovative auto wash setting detects your dishes' level of dirtiness and adjusts the length and power of the cycle accordingly, meaning it won't waste time washing dishes that have already been cleaned. It has won top marks for durability, and, with three racks, you're sure to find space for all the dishes after even the biggest of family meals. As far as value goes, there's no topping the remarkable Bosch 300 series.
4 - Miele Dishwasher G6625 CLST
While you might be shocked by the higher price, you can rest assured that you'll get exactly what you paid for with this celebrated high-performance machine. The stainless steel exterior is beautiful, but it's what's inside this dishwasher that really sets it apart. Its intricate system of water-softening mechanisms and modern pumps produces a total wash without a single water mark. It's completely silent and can be trusted with even the most delicate dishes. Its drying technology is state of the art, meaning you'll find the dishes ready for storing as soon as the machine finishes the job. While the Miele dishwasher is expensive, it is said to last more than twenty years. What you spend now, you'll save later by not having to invest in a new dishwasher.
5 - Bosch 800 Series
A true high-end appliance, this dishwasher is an exquisite piece of modern machinery. Its gorgeous design and touch-screen control lets you know you're dealing with an appliance of the future. With six different cycles, it offers remarkable versatility. The drying feature is of the highest quality, thoroughly drying dishes without ever melting them. If it's a top of the line appliances you want for your home, then the Bosch 800 series is worth a look.