Which Gaming Chair Is the Best On the Market?
Improve your gaming experience with the perfect chair. Whether you are gaming on the new Xbox Series X, the PS5, or PC, you want to extend the innovative technology to your gaming chair. When you are spending countless hours in a gaming chair- comfort must be the priority. Features like an adjustable height range, lumbar support, and cooling fans can change the game.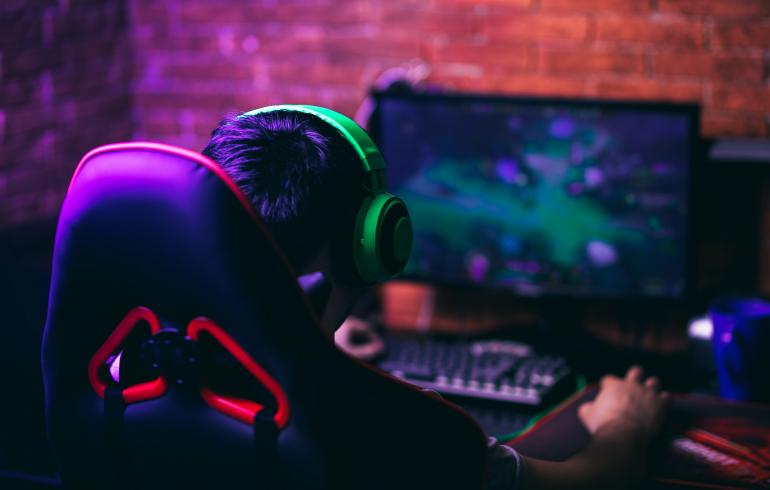 Gaming chairs are changing the market to accommodate a more ergonomic design versus the racing style chair that chairs have been modeled after for years. They have many of the same features, such as bold colors and racing lines, but comfort has become the number one priority. The newest chairs feature firm padding for extended seating times, built-in cushions, and padding with designs to support your back, neck, and shoulders for optimal gaming so that you won't feel stiff and sore afterward. Users have a selection of various materials for breathability- including leather, mesh (mesh back) fabric, and PU Leathers. These top gaming chairs have cool features beyond their sharp aesthetics and crisp colors.
1 - Razor Iskur
This chair features an ergonomic design built as a system for lumbar support. The built-in lumbar curve is fully adjustable to support your lower back. It forms to your spine to keep it aligned in an appropriate posture. The multi-layers of leather offer durability and toughness to stand up to more wear and tear than PU leather. The 4D armrests can adjust upward and downward and forward and backward to fit whichever position you desire. The foam cushions are plush and high density to form to your body. This allows for your weight to apply evenly with just the right amount of pressure.
2 - Secretlab's Omega 2020 Series
This premium chair has a 4.9-star rating and for a good reason. Its ergonomic design was built for comfort regardless of how many hours are spent sitting in it. Starting at the top, it features a memory foam head pillow and a lumbar support cushion that will form to your body. Three different designs come in NAPA leather, SoftWeave Fabric, and PU Leather, depending on the price you are willing to pay for luxury. For maximized comfort, this chair reclines and adjusts height; it also features adjustable armrests.
3. CORSAIR T1 Gaming Chair
For an affordable pick that doesn't lack comfort, the Corsair Gaming chair should be your go to. Made of tough leather, this chair will keep you cool as your game. You won't miss out on fully adjustable 4D armrests and head and neck cushions. Recline as your game or adjust the height and stay put with the gas lift steel construction. Its Nylon Caster wheels will stay locked in place so you won't move mid-game, but glide easily when you need to adjust your position.
4 - Respawn 205
This is another affordable chair that offers a lot of bang for your buck. It has a light mesh back material to keep you cool as your game. Though it has a lightweight material, its steel frame is sturdy and can support up to 275 lbs. You will also get some of the luxury features, without the cost, such as reclining up to a 130-degree angle, adjustable armrests for ergonomic positioning, and adjustable height like most other chairs. The chair is wrapped in molded foam and features neck and lumbar pillows for extra support for comfort.
5 - Secretlab Titan
For a large chair with lots of comforts, opt for the Secretlab Titan. You won't be disappointed with its fabric material for a soft plush feel; it's one of the most comfortable chairs around. It features plush padding along the back of the chair, built-in lumbar support, and subdued molding so the chair will mold to your body. This award-winning chair allows for customization, so you can add additional features and design elements that suit your needs.
6 - Noblechairs Icon
This high-luxury chair comes with an affordable price tag. Its premium leather and sleek design will have you rolling in style and comfort. An all-black design means it can serve as a dual-purpose chair- but whether it is used for work or play, it will offer comfort and support. Its lumbar support cushion is easily removable for customizability, and thick padding will support your neck and shoulders.